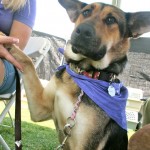 J.J. Woofin' Paws Rescue Agency is a 100% volunteer, non-profit 501(c)(3) organization and a California Public Benefit Corporation.  We rely entirely on donations to rescue animals. We do not get a salary for our rescue work and donations go 100% towards veterinary care, boarding, training and supplies for our dogs and rescue group. Your donations may be tax deductible; please check with your tax professional. Keep your paypal transaction receipt or check as your donation receipt.
TO DONATE USING PAYPAL, GO TO https://www.paypal.com/webapps/mpp/send-money-online

direct payments to jjwoofinpaws@gmail.com  — please note that it is a "general donation"
OR VIA this link:
TO DONATE VIA REGULAR MAIL, SEND CHECK OR MONEY ORDER TO:
J.J. Woofin' Paws Rescue Agency
21781 Ventura Blvd. #611
Woodland Hills, CA 91364
TO DONATE A REGULAR MONTHLY AMOUNT VIA PAYPAL, select the $ amount you would like to donate, and then click "SUBSCRIBE": Thank you for your generous donations. Every penny goes towards very deserving rescue animals!
• 25$ will cover the cost of basic supplies like a collar, leash and food for a foster dog
• 50$ will help to rescue a dog from a city shelter
•100$ will provide for the spay or neuter of a dog or  cat
•250$ will cover basic medical care for a needy animal
•500$ will provide for a month's worth of training or boarding of a needy dog